Seungtack Lim
MFA in the Rinehart School of Sculpture, 2017
︎ slim02@mica.edu
︎ seungtack-lim.com

Expected, Unexpected.

I like to experiment with the infinite possibilities of the unexpected relationship between blind spots, especially in reference to the audience's common misconceptions of Art. I personally like to make viewing art as accessible and enjoyable as possible.

First of all, my work experiments with examining what is obvious and not obvious. I challenge preconceived ideas about ordinary objects by jettisoning their traditional functions; something familiar can be transformed into its unobvious counterpart. Specifically, I purposely seek to toss aside the audience's thoughts about what art is. In this way, I stretch the boundaries of imagination. In today's busy society, we lack time to enjoy art. We take too much for granted and life becomes a repetitive cycle. Everything is judged rapidly by one's inference and some objects are easily passed without critical observation. But every object, every word, is significant. What if things that people think are obvious aren't as we imagine? What if we could really be aware of everything we're taking for granted? I am making art based on these blind spots in order to expose the illusions and preconceptions they may contain, and encourage people to take a second look.

Additionally, I want to talk about a blind spot in the audience's common misconceptions of art by using an object that we use every day. The problem is that each person sees art through their independent visual perception and cultural underpinnings. In today's society, people judge something by its appearance. People are just concerned about where art is made, and whether it is made by a famous artist. They become obsessed even if it is just a line or a tiny object. But, their "ART" is limited to their own knowledge and viewpoint. Then, what is an art piece? What is a good art work for them? What are people's expectations for fine art? And if normal people cannot enjoy or understand an art work, can that art piece be an art work? How do people normally see art work? I have a clear perception of particular conditions that people tend to overlook. The ambition of my work has been to redirect what people notice through visual illusion or prejudice.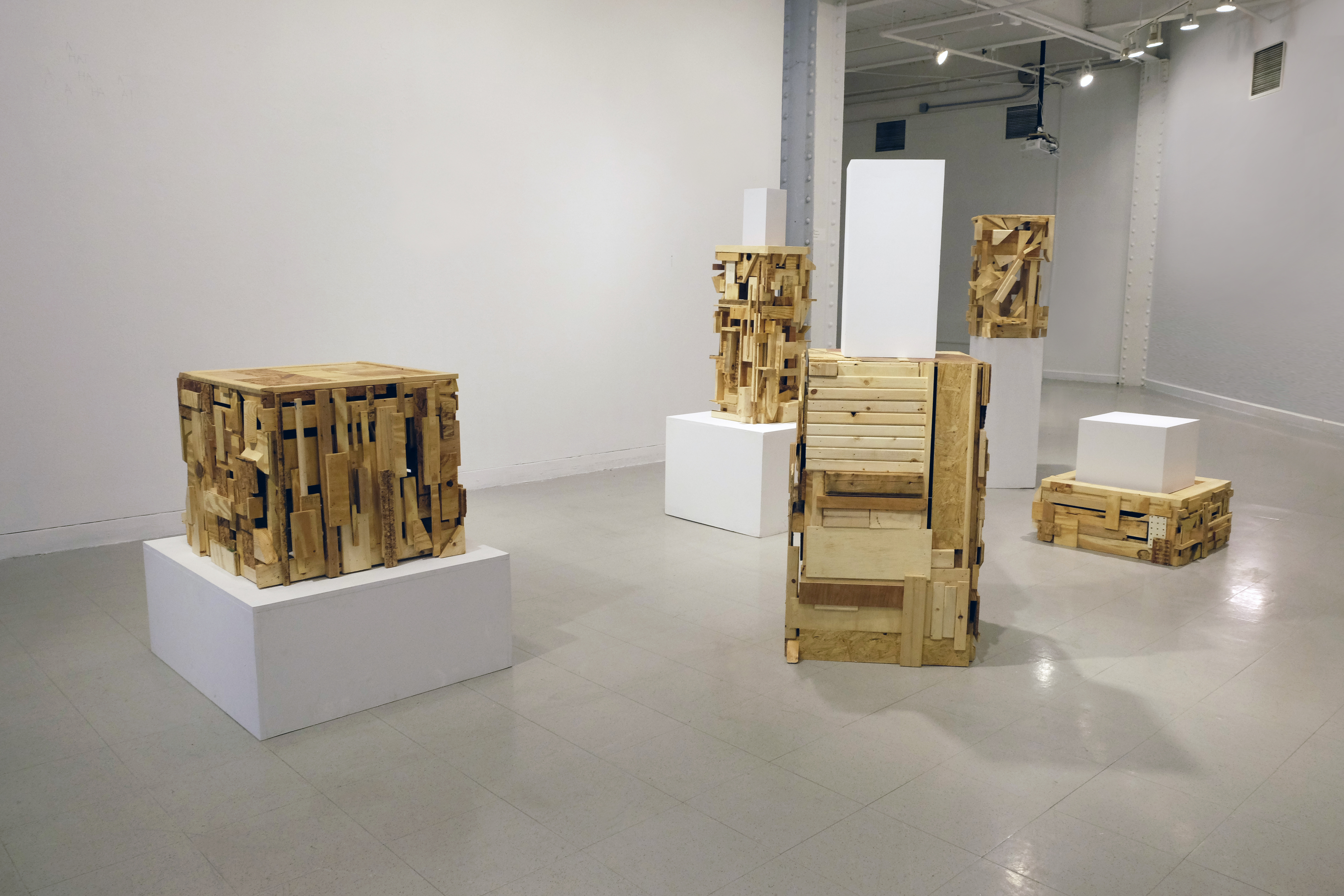 Respective Roles, 2017
Scrapwood, Polyurethane
Variable Dimensions


My Painting #3, 2019
Scrapwood, Polyurethane, Frame
20x24x11 inches



My Frame for My Drawing, 2020
Scarpwood, Polyurethane, Paint
28.7x31.5x4.7 inches